View All Faculty
---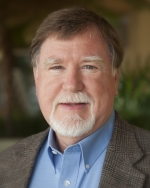 William L. Bilodeau, Ph.D.
Professor of Geology-Emeritus Status
About
Prior to joining CLU's faculty, Dr. Bilodeau taught for eight years at the University of Colorado, Denver, where he developed both an extensive knowledge of the local geology and a love for the Rocky Mountains. His research has centered on the regional structural geology, tectonics and sedimentary geology of parts of Colorado and Arizona and now, southern California. Dr. Bilodeau believes that geology is best learned in the field, so he includes many full-day and overnight field trips in his class activities. At CLU he has developed and led several international travel seminars, including trips to Italy, Greece, Egypt, Turkey, Costa Rica, Ecuador and the Galapagos, New Zealand, Australia, Belize and Guatemala. Outside the classroom, Dr. Bilodeau enjoys hiking, camping, river rafting (especially the Colorado River through the Grand Canyon), reading science fiction and visiting an occasional Saturday morning garage sale.
Education
B.A., University of California, Santa Barbara, Geology (1973)
Ph.D., Stanford University, Geology (1979)