View All Faculty
---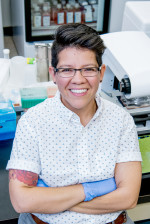 Paloma Vargas, Ph.D.
Assistant Professor of Biology and Director, Hispanic-Serving Institute Initiatives, Co-Director ALLIES in STEM
Office Hours: Fall 2020: Tuesdays 2-3pm via Zoom, For advising, please email me to schedule an appointment.
Paloma Vargas is an Assistant Professor of Biology and the Director of Hispanic-Serving Institute (HSI) Initiatives.
Paloma worked on her undergraduate degree at the El Paso Community College (EPCC) and received her B.S. in Biology from the University of Texas at El Paso. She received her M.S. and Ph.D. in Medical and Molecular Parasitology from The Sackler Institute of Graduate Biomedical Sciences at New York University where she studied proteins involved in post-transcriptional and post-translational regulation of the parasitic amoeba Entamoeba histolytica. Upon completion of her doctoral work, Paloma followed her passion for teaching to her native Texas where she taught at EPCC and at a local high school. In 2013, she completed a research postdoc as an IRACDA fellow at Northwestern University in Chicago where she studied the role of Legionella pneumophila's (Lpn) type 2 secretion system in amoebic infection. At NEIU she worked as a holistic STEM Advisor and served at the Center for College Access and Success leading STEM initiatives and developing curriculum and professional development for teachers under the GEAR UP program. She also spearheaded University-wide STEM grant writing efforts, specifically the Title III, HSI STEM grant received by NEIU in 2016.
As Director of HSI Initiatives, Paloma's work on campus focuses on being the liaison between all departments and divisions at Cal Lutheran on issues of equity and accessibility. Her goal is to address issues of justice, equity, and access in higher education for traditionally underrepresented groups (Latino/a, Black, Pacific Islanders, Native Americans). Much of her area of focus as Director of HSI is in breaking down systemic barriers & policies that disproportionately affect the success of underrepresented groups within the higher education system.
Paloma's research interests include post-transcriptional and post-translational modifications, host-pathogen interactions, spread of infectious diseases, access to higher ed for minoritized populations, impact of co-curricular experiences on (BI)POC in Higher Education.
Paloma is an active member of the Society for the Advancement of Chicanos/Latinos and Native Americans in Science (SACNAS) and is an alumn of the Linton-Poodry SACNAS Leadership Institute.
Outside of CLU Paloma enjoys spending time hiking with her dog (Riley), working out, & finding new places for good food
El Paso Community College (71 hours completed)
B.S., Biology, University of Texas, El Paso, 2005
M.S., Molecular Parasitology, New York University School of Medicine, 2008
Ph.D., Biomedical Sciences (Medial and Molecular Parasitology), New York University School of Medicine, 2010
Postdoctoral Training, NU- Select Teaching and Reserach Training Program, Northwestern University, 2011-2013
STEM Outreach and Education
Equity Issues in Higher Education
Medical and Molecular Parasitology
Microbiology
Host-parasite interactions
Protein biochemistry